I just attended the International Policy Summer Institute, a program put together by Bridging the Gap. The event was held at my alma mater, the American University School of International Service, and led by Dean James Goldgeier, Bruce Jentleson from Duke, Jordan Tama from AU, and Brent Durbin of Smith College. Heavily influenced by the work and mission of Alexander George, BtG seeks to help interested scholars connect their work with policymakers, the media, and the general public. My fellow participants were an impressive group, including many up-and-coming assistant professors with a book (or several) with top university presses. All shared interests in producing excellent scholarship that contributes to the scholarship and builds theory while also engaging with other audiences (though not always the same ones). In the spirit of the event, I want to draw a few lessons from my week.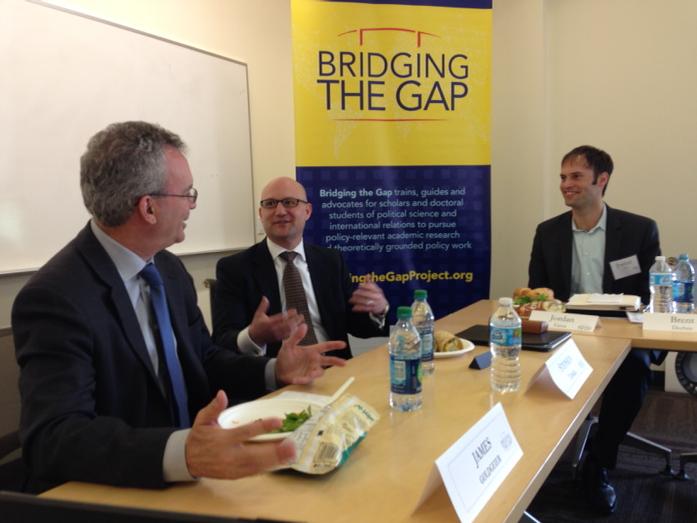 Start thinking about real-world relevance (policy or beyond) starting with your research questions. Don't wait until the last paragraph of your journal article.
Get your contributions out to different audiences in the formats useful to them, without "dumbing down" your message. As a few speakers said, "Meet your audiences where they are." Keep your writing concise and accessible.
One academic product can inform numerous additional pieces, from policy journal articles to op-eds to blog posts to Tweets. The shorter pieces (especially op-eds) get read, shared, and discussed.
Engage with "policy relevance" to the degree which you are comfortable. Not everyone has to do everything.
Keep your engagement based on your scholarship. That is where your comparative advantage is. Journalists call you for expertise, not because they want a pundit.
Policymakers probably aren't looking at academic work, but they are looking for insights, particularly help putting today's problems into a broader context.
Scholars can help advance longer-term thinking. In Washington, the urgent often leaves little space for the important.
Relationships are the name of game, whether with government officials, NGO staff, or the media.
While it takes a lot of time, engaging more broadly can improve your scholarship by generating research questions, providing connections to data and interviewees, and giving you a chance to test your conclusions against practitioners' views.
Caveat: Know where you are in your institution and career. Some of this can be risky pre-tenure.
For interested doctoral students, check out BtG's New Era Foreign Policy conference (I'm an alum of that program, too). For academics, BtG now has a book series with Oxford University Press so that you can publish policy-relevant research that will still make a contribution to your tenure package. Thanks again to the organizers and to the Carnegie Corporation for providing funding for this program. We all appreciated the time from speakers, including from Foreign Policy, Monkey Cage, War on the Rocks, the National Interest, the WSJ, Center for a New American Security, CFR, the U.S. Congress, and executive agencies.